Anyway I'm combining work with the trip so should be ok.
Well the first part of this trip is to Seattle so it was nice to finally find out how it's like to be "Sleepless in Seattle", oh yes, with the 15 hr time difference from SG, I basically work at night to keep up with office work, and move like a zombie during the day.
We had this tour guide who speaks with a china accent despite having been here for years. Quite entertaining, especially how she describes one of the bridges in Seattle as the one with the highest suicide rates (apparently due to its height being just nice).
We visited the Space Needle, overrated but still architecturally fascinating. As with all tourists, I visit all these man-made "phalluses"! Anyway it's a nice view of the whole landscape. Seattle is probably one of the nicer countries to retire in. Nice waterfront, generally good climate and a laid back appeal.
But I love the gifts they have for the place – art deco designs – my fav! Had to get a few for reference and the alien/ monster attack ones are so cool!
Then I went to check out the EMP museum – interesting Gehry design, not keen on the shape but I love the finishing. Hahahhaa it sounds like how some ppl pick dates – see the outside, ignore the inside? hahahaha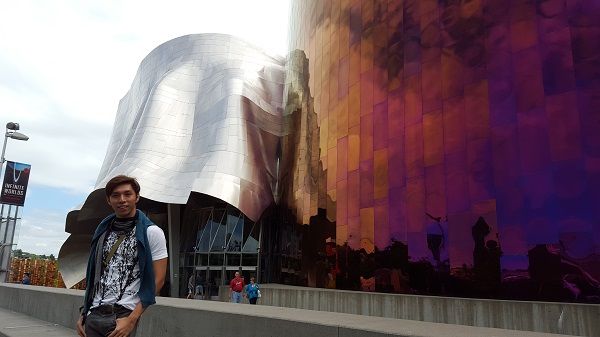 And then we travelled further to check out more sights -
Went to the Hiram M. Chittenden Lock, where they control passage for ships between freshwater and saltwater and also to see the fish ladder where salmon have to play frogger to get to their spawning grounds. It's cool to see a viewing gallery and see the salmon swimming against the current to get upstream.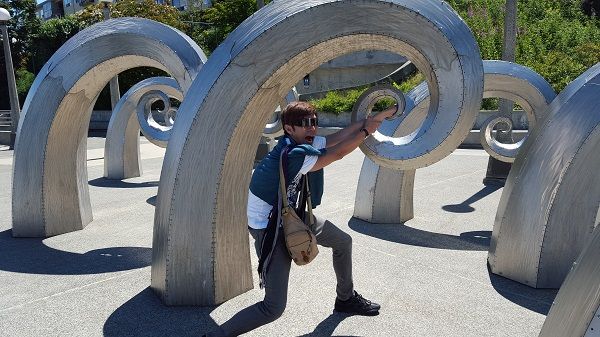 Then it's off to Pike Market to see their market place. So many glass sculptors – amazed by their skills!
And they got this huge ass Golden Piggy!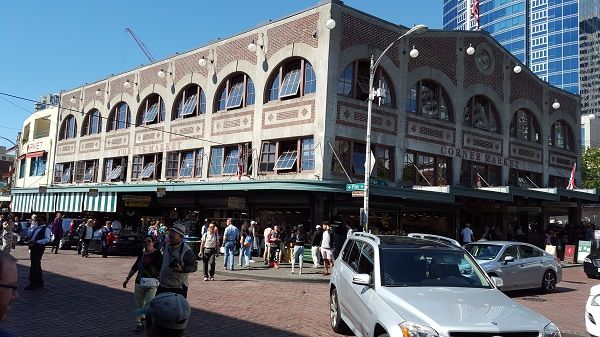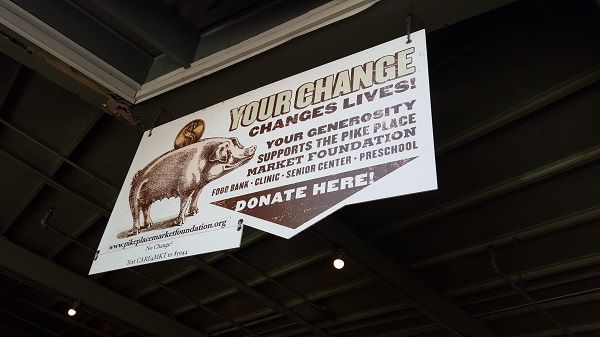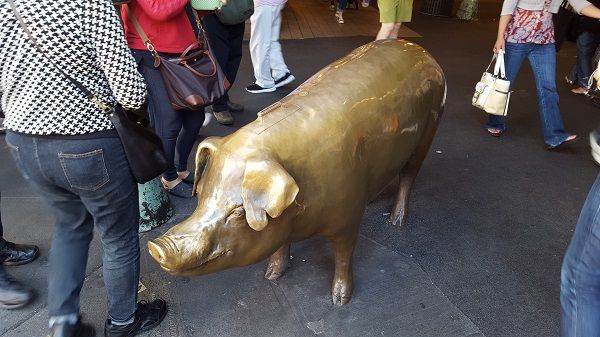 And the pilgrimage to Seattle's main export – well-branded normal-tasting coffee – Starbucks.
So nice, they still retain the old logo, the nubile mermaid flashing her tits at u (just so u know how your latte is produced). Got some gifts for friends hope they like titty mermaids telling them to look at her thingamabobs ("I've got twenty! But who cares? No big deal, I want more…..")
And strangely our hotel has a nice indoor pool, but there's a table tennis table right next to the pool – I wonder who table tennis in their speedos….. And the place is very visible from the shopping centres…. It's like a huge exhibitionist place!
So I'm on a trip with my parents right now. Very rare to do so since schedule is always very busy. So for this to happen and to actually be on the trip I should so hit the casino, confirm get jackpot!